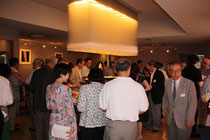 Japan Minnesota Association (JMA) held a successful 2010 annual meeting and Summer Party at the restaurant Stockholm located in Akasaka. The total of 49 people joined in this party, and enjoyed the meetings and conversations with delicious Swedish cuisine.
Mr. Yamaguchi, the vice president of JMA, presided the party, and Ms. Iwanami, the president of JMA, presented the latest reports and the future plans of JMA, before Dr. Umezu proposed a toast. After we poked food and people around for a while, we had a panel discussionpresented by Darryl Magree, Hitomi Maeda, and Takeshi Kosuge, based on their experiences of international exchanges, guided by Akira Nakamura.
After the panel discussion, we had a game "Who am I?" which involves all the participants in order to interact and get to know more about each member. "Who am I?" is a game that individuals post a paper with a famous person's name or a cartoon character name on their back, and participants need to guess what name is written by asking yes or no questions to others, like 'Am I Japanese?', or 'Am I male or female'. First five people who named the correct answer received a prize.
At the end, we had a speech by Mr. Yamashita, who recently came back from Minnesota, about the Minnesota Govenor's visit to Japan. At last, the party closed with a speech by a former JMA president, Mr. Numagata.
After the party, Ms. Iwanami received thank you emails and comments from many participants saying that they enjoyed the party and were happy to see people long time no see. It is great to hear those comments for all committees who managed and involved in this party, and surely those comments will be a plus for the next event.
We would like to thank all the participants to be a part of successful annual meeting, and hopefully people who were unable to come to the party will be joining next year. We are all looking forward to seeing you again!