CHRISTMAS PARTY 2016 Japan Minnesota Association
Date: December 4 (Sunday) at Meson Cervntes, Spain Club
It is that time of year again... yes, Japan Minnesota Association Christmas party came!
We are happy to report this year our party was exciting. We enjoyed Spanish food, nice drinks (including all-you-can-drink wine) and a nice view from the rooftop. Last but not least, we had a special program such as auction of Minnesota goods and many other things. Nearly 70 people gathered and enjoyed. Looking for the next year events.
Big 10 Sanriku Support Tour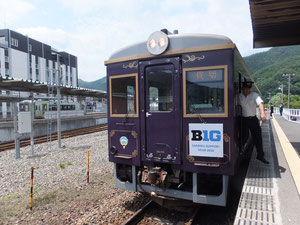 We at the Japan Minnesota Association are happy to report that the BIG 10 SNRIKU SUPPORT TOUR went exceedingly well.
The tour was organized by BIG 10 alumni groups in Japan, of which JMA is an active member of. The purpose of the tour was to support the restoration of the Sanriku area after the massive earthquake and tsunami in 2011 by drinking locally brewed beverages and enjoying the fresh seafood that the area has to offer.
On Saturday, July 9th, 2016, ten participants of the Japan Minnesota Association rode on the 'HAYATE 111' Tohoku Shinkansen at 7:16am from Tokyo Station, bound for Shin-Hanamaki. Upon arrival at 10:09am, we transferred to the Kamaishi Line, which is the model for the 'Milky Way Railroad' by famous writer Kenji Miyazawa. Every station has its own name in the Esperanto language because of Mr. Miyazawa's personal philosophy of arcadia. 
After a long journey, we finally arrived at Kamaishi station, well-known as a Rugby town. After arriving, we had lunch at Horaikan, an inn located in the pine forest of the coast. There we listened to Ms. Iwasaki, a proprietress who encountered a massive tsunami and had a narrow escape, speak on her experience. Following the lunch, we visited the planned location for the World Cup in 2019. 
Next we traveled to Otsuchi-cho by coach and visited the 'Kirari Temporary Shopping Mall'. The original shops were washed away during the disaster and were temporarily rebuilt. While there we also visited the 'Kaze no Denwa', which is a place where one can have a spiritual conversation with lost loved ones. 
Finally, after a long day of travel and sight-seeing, we checked into the Sanriku Hana Hotel Hamagiku. At 7:00pm dinner began. The dinner was lively sake sampling sessions provided by local breweries and with a number of craftsmen and experts present to share their homegrown passions with the group. Mr. Matsuzaki, an independent sake journalist and consultant, held a fascinating sake seminar. Mr. Arasato, who is the President of Hamachidori Brewers and Mr. Sasaki, who is with the Otsuchi town office, gave wonderful speeches. In addition, Mr. Yoshino, a producer of hand-made quilting products produced by tsunami victims, presented a video of a Minnesota TV program in which he introduces himself and the project. This was filmed when Mr. Yoshino was invited to the University of Minnesota, Rochester last year. 
Everyone enjoyed the local dishes, the sake, and the presentations. Participants even bought many quilting products and applied to support a new project that provides local foods to non-local consumers every three months. This project aims to strengthen ties between the fishers and farmers in Otsuchi and the consumers who live in the city, like us. By the end of the evening, everyone was in good spirits. Together, we all sang and danced to the Hyokorihyotan-jima Song, which is a famous theme song for NHK programing in the 1960s.
The next day, Sunday, July 10th, we boarded the bus at 8:15am. Our tour guide for Otsuchi-cho was Ms. Kmiya, the Secretary General of Otsuchi Yumehiroba. She gave great detail while explaining the process of reconstruction and the future plans for Otsuchi-cho. To begin our tour, we visited a diorama, made by the townspeople, of the town before the great damage caused by the tsunami. Next, the bus stopped at the remains of the town hall. This is a very grave site; many people were killed there during the tidal wave, including the mayor.
We had the chance to pray for them at the altar. From there, we parted from Ms. Kamiya and left for Kamaishi. In Kamaishi we visited the Hamachidori Brewery, which is located in the suburbs of the area. From there we boarded a retro Sanriku Railway train. This was a special experience because we had chartered this train and were greeted with a large plaque attached to the train reading, 'BIG 10 Sanriku Support Tour 2016'. From Kamaishi station to Mori station,  we enjoyed the scenery from the train windows while drinking Japanese Sake and soft drinks and eating seafood Ekiben (lunch boxes on the train).
Our final stop was the Rikuzen-Takada, which also suffered serious damage during the 2011 disaster. The tour guide was Ms. Miller Amya, who is from Indiana State and is a former special adviser to Rikuzen-Takada city. She took us to several notable places damaged by the tsunami. Among these was the Miracle Pine, which is a tree famous for being the sole standing object in the area after the disaster. While taking us on the tour, she showed and explained to us ways in which the city was being revived. 
We caught the "Hayabusa 108" Tohoku Shinkansen from Ichinoseki station at 17:48, arriving in Tokyo at 19:56. These two days were such a great success; we were given such a great opportunity to understand the impacts of the tsunami, contribute to the rebuilding by buying locally produced products, and get to know each other better. We hope that we can organize a similar type of study tour again in the near future.
Summer Party 2016

On Sunday, June 26th, 2016 the Japan Minnesota Association held their annual Summer Party. Although in the thick of Japan's rainy season, the sun, rather than rain, poured down and made for a beautiful day and breathtaking view from the top of the Shinjuku Mitsui tower. The event drew a crowd of 39 participants, many of whom were long-time members of the association and some of whom were new faces!
The Summer Party began with a lecture by Keio University Faculty of Economics Professor Shuhei Shiozawa. The topic that Dr. Shiozawa presented on was "Economic Prosperity and Sustainability-- Trade-off or Not? ?Stimulating Effective Demand by Expenditures for Enjoyment!", which was an engaging look at how the economy is positively affected by wholesome entertainment spending. Following the lecture, participants enjoyed a generous luncheon over lively conversation.
Dr. Shiozawa's lecture began candidly; he explained that there is a simple way that we can combat deflation. "Purity", in economic terms, is the conscious use of natural resources and physical products. "Fortune", he explained, is a positively growing economy and low unemployment. These two concepts together create "SEIFU"; increasing the demand for art and culture as types of leisure helps to create a healthy economy.
Following the lecture, participants enjoyed socializing and listening to speeches from a variety of members on several different topics. For example, Mina Takeshita recently returned from a year studying abroad in Minnesota and shared some photos and anecdotes with the group. Also, 1960s study abroad student, Chino-sensei, who had never been to a Japan Minnesota Association event before, gave a speech that everyone enjoyed. Finally, Iwanami-san got the crowd excited for the upcoming JMA events like the Christmas Party. Altogether this year's Summer Party was a great success and pleasant way to spend a rare sunny June afternoon.
Japan Minnesota Association "Ohanami 2016"

On April 2nd, 2016 the Japan Minnesota Association (JMA) held its annual Ohanami in Inokashira Koen. Although this year has been warm, a recent cold snap left us worried about the condition of the sakura for the Ohanami. Luckily, although we needed jackets, the cold weather did not stop the beautiful blooms from filling the park and drawing a crowd! We had about 40 participants joining us this year, consisting of both new and returning members and spanning all generations. It was an exciting and successful year by all accounts.
As in previous years, we had a bountiful picnic full of homemade dishes, omiyage, and other snacks. This "potluck" style lunch is a cherished aspect of this party, as there is nothing more fun than trying a wide variety of delicious and heartfelt dishes while you catch up with old friends. We enjoyed everything from potato salad, to braised pork, to fruit, vegetables, various types of rice, and so much more! Mr. and Mrs. Nakamura scoped out a good spot for cherry blossom viewing at 5am that morning, so we were also able to appreciate the beauty of the sakura while we relaxed.
It was thanks to the efforts of our JMA community that we could have such a great meal under the flowers together. Holding with tradition, after enjoying our picnic Iwanami-san graciously led a group on a walk through the park to get an even better view of the numerous sakura trees surrounding the pink petal covered pond. Many members used this as an opportunity to introduce themselves to some of the new faces at the party.
Upon returning from the tour, Iwanami-san, Yamaguchi-san, and other members made announcements and thanked all of the members who joined us that day. Among those announcements was even the engagement of two JMA members! The preliminary details of the upcoming Summer Party were also announced, which are as follows:
"Summer party 2016" Date: June 26th (Sunday), 2016 Shinjuku Mitsui Club
We would like to thank everyone who participated in this year's Ohanami. In addition, although it takes the effort of our entire community to have a successful event, I would like to especially thank Iwanami-san, Nakamura-san, Yamaguchi-san, Minami-san, Matsumori-san and all members of the Ohanami planning committee for their hard work and planning.
Finally, I would also like to thank our supporters at the University of Minnesota learning abroad office for continuing to help us keep the connection strong with the University. Lastly, we are pleased to announce an additional upcoming event. This event is a tour of the Tohoku area in regards to the recovery effort. More details will be ready to share shortly, but the tour dates have already been decided and are below:"Tohoku tour 2016" (plan) Dates: July 9th and 10th We hope you can join us for this event and other upcoming JMA events.