Dec 8(Sun): Christmas

CHRISTMAS PARTY 2013
Japan Minnesota Association
We had a Chrisitmas party at Swedish restaurant
"Stochholm" on Dec.8, 2013.  Many poeple gatherd
to enjoy wonderful food and talking.
 
Sep 28(Sat): Big10 Golf competition
「BIG10 Golf Competition at Karuizawa President Golf Course」
Our five members participated in the 5th Big 10 Golf Competition in Karuizawa on the 28th of September. Mr. Takeuchi won the championship, and Mr. Ijiri captured the third prize and the driving contest.
Sep 21(Sat): America Expo
America Expo 2013 was held at Akihabara UDX Gallery on Sep 21 sponsered by
American embasy. Our online information request for the U.S. university is " here " ,
and our online PDF versions of brochures are " here ".
(America Expo 2013)
July 28(Sun) : Field trip to Mt.Takao
Field trip to Mt.Takao with U. of Minn exchange students to Hitotsubashi University.
Walk around top of the Mt.Takao and Yakuouin shrine. Enjoyed drink and buffet lunch together there.
June 16 (Sun) : Summer party at Piasis Shibuya club
  Summer party was held at Piasis Shibuya club on June 16.
This time we had a very unique English Rakugo(joke story telling) performance by Emilin(Dr. Magoshi)at Obirin University.
  Also, we had two guests from Big10 conference university almini (1) University of Wisconsin and (2) Purdue University. There two students from U of Minnesota who are temporaly studying at Hitotsubashi University. 
March 30 (Sat) : Ohanami party at Inogashira park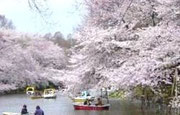 We had a fun cherry blossom party "OHANAMI" at Inogashira park on March 30. It was a cold day but we were still able to enjoy our Ohanami potluck party.
  Three U of Minn. students joined us and we had a wonderful time with them.